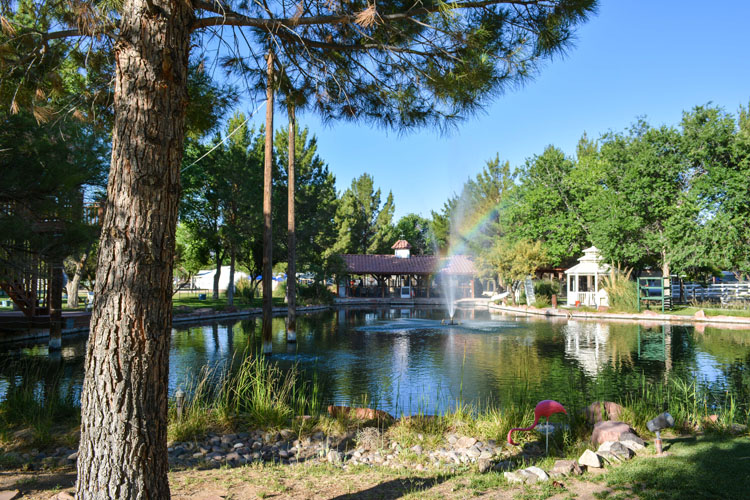 Kingston Ranch is a private estate owned by Las Vegas attorney Al Marquis.
Al has practiced business and real estate law in Las Vegas since 1975.  He is the founding partner of Marquis Aurbach Coffing (www.maclaw.com). He has been recognized by his peers as a Mountain States Super Lawyer, Desert Companion Top Lawyer (Litigation), and has an AV Rating with Martindale-Hubbell (the highest rating available).   The firm has 36 attorneys with experience in construction, real estate, estate planning, bankruptcy and commercial litigation.
Located in Sandy Valley and described by visitors as "an oasis in the desert," "animal haven" and "a spiritual connection with nature," historical Kingston Ranch is enjoyed primarily by friends and family with one notable exception: children.
A few times each year, the peaceful tranquility of Kingston Ranch is interrupted by the squeals and laughter of scores of children who swim in the lake, ride horses, scurry after bunnies in the rabbit pen and sit around the campfire while discussing the starlit sky. (The decibel level is controlled with Al's "No screaming unless you are drowning" rule.) Kids learn how to interact with dogs, horses and other animals in a quiet, gentle and respectful manner.
Kingston Ranch has been the site of many camps for kids.  In July of 2013, Al Marquis received a call from Jeff Gordon, president of the Nevada Childhood Cancer Foundation, who explained that NCCF's annual "Camp Cartwheel," planned for the following week, was on the verge of cancellation due to the Carpenter 1 fire that had devastated thousands of acres at Mt. Charleston.  Jeff wanted to know if camp could be held at Kingston Ranch.  He then explained that camp would consist of 200 kids and adults for four days, followed by a similar camp the following week.  Without hesitation, Al agreed, and Camp Cartwheel 2013 turned out to be a smashing success.  One of the highlights for the kids was nine month old Charlie, Al's white Lab, who made it clear to all of the children that he loved them unconditionally.  To show their appreciation, NCCF selected Al and Charlie to be the 2013 recipients of their Community Angel Award, which was presented to the two of them on stage in the Grand Ballroom of the Bellagio Hotel.  (To attend the annual Gala, always scheduled for the last Saturday before Thanksgiving, go to www.nvccf.org.)  Al and Charlie returned in 2014 to make the award to that year's recipient, Charlie Moots, co-owner of the LVDD Dunkin Donuts franchise in Las Vegas.   Shortly after receiving the Award in 2013, Al become a director of NCCF.  Later the Board of Directors adopted a resolution making Charlie NCCF's Official Mascot.  Now Charlie and Al are regulars at most NCCF functions.  (You'll know they're coming because you'll hear all of the children shouting "Charlie, Charlie, Charlie!)